Reflectometers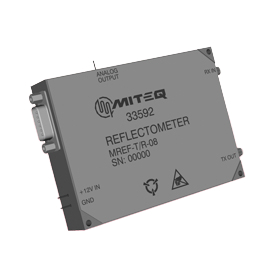 Although L3 Narda-MITEQ offers one of the broadest lines of standard communications products, the bulk of L3 Narda-MITEQ's business is in customized components, assemblies, sub-systems, systems multi-function assemblies and Integrated Microwave Assemblies designed specifically around the customer's needs. L3 Narda-MITEQ's heavy emphasis on internal R&D throughout its history has lead to the creation of a company with the ability to adapt quickly to the changing needs of the customer and market while at the same time offering competitive prices and fast turnaround times.
L3 Narda-MITEQ's total in-house microwave component design capability allows us to serve and satisfy our customer's needs expeditiously with single-function components or multifunction assemblies. Most of the multifunction assemblies are designed to unique customer requirements. A multifunction assembly is more compact, smaller in size and lighter in weight than a structure consisting of discrete system building blocks. In addition, a purchased multifunction assembly normally has all of the system interface problems solved at the manufacturing level, and the input/output performance will conform to design specifications when installed at the next level of system integration.
---
---
L3 Narda-MITEQ's Reflectometer is an integrated assembly that contains a signal generator, transmitter, receiver and control circuitry. This unit transmits an RF signal, measures the reflected signal and then generates both an analog voltage and digital output that follows the level of reflected signal.
The Reflectometer transmit section contains a stable and accurate Dielectric Resonant Oscillator (DRO) followed by an amplifier, low pass filter and isolator. The receive section contains an isolator, low-noise amplifier and temperature compensated detector to
provide superior RF performance. Unit has both analog and digital (RS232) outputs of the detected signal which can feed a
computer system for digital processing.
---
Literature:
---
Parent Category:
RF/Microwave Components
---
Please
Contact L3Harris Narda-MITEQ
for more information:
Click Here For More Contact Options...