PIN Diode Limiters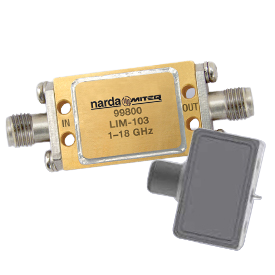 Narda-MITEQ offers a wide range of PIN diode based limiters designed to meet severe environmental conditions for airborne as well as other applications. Broadband limiters cover up to 1 to 18 GHz in one band and support power handling of up to 500 watts of pulsed power. The Narrowband limiters cover typically 25% frequency band within the frequency range of up to 18 GHz. They support power handling of up to 400 watts of pulsed power.
Our PIN Diode Limiters offer high-power ratings, fast recovery time, small form factor, and are available in either connectorized or drop-in modules.
Model Name
Frequency Range
(GHz)
Power Input
CW
(Max W)
Power Input
Peak
(Max W)
Recovery Time
(ns Max)
Operating Temperature
(°C Max)
Data Sheet Link
LIM101
1-18
2
150
200
-55 to +95
View PDF
LIM201
2-18
1
150
100
-30 to +85
View PDF
LIM301
2-18
3
500
200
-30 to +85
View PDF
---
Application Notes:
---
Passive Components
---
Please
Contact Narda-MITEQ
for more information:
More Contact Options...