Amplifier Assemblies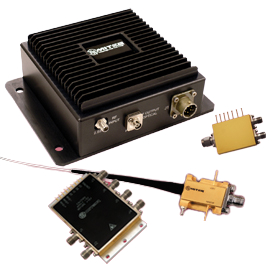 Although Narda-MITEQ offers one of the broadest lines of standard communications products, the bulk of Narda-MITEQ's business is in customized components, assemblies, sub-systems, systems multi-function assemblies and Integrated Microwave Assemblies designed specifically around the customer's needs. Narda-MITEQ's heavy emphasis on internal R&D throughout its history has led to the creation of a company with the ability to adapt quickly to the changing needs of the customer and market while at the same time offering competitive prices and fast turnaround times.
Narda-MITEQ's total in-house microwave component design capability allows us to serve and satisfy our customer's needs expeditiously with single-function components or multifunction assemblies. Most of the multifunction assemblies are designed to unique customer requirements. A multifunction assembly is more compact, smaller and lighter in weight than a structure consisting of discrete system building blocks. In addition, a purchased multifunction assembly normally has all the system interface problems solved at the manufacturing level, and the input/output performance will conform to design specifications when installed at the next level of system integration.
---
---
RF/Microwave Components
---
Amplifiers
|
SATCOM Amplifiers
---
Please
Contact Narda-MITEQ
for more information:
More Contact Options...