Uplink Power Control Units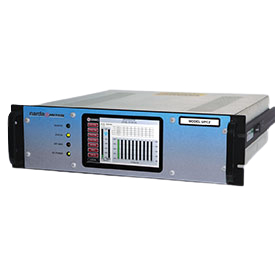 The Uplink Power Control System (UPC) is a self-contained, rack-mountable unit, designed for geostationary satellite communication systems. It adjusts the strength of uplink signals at IF frequencies to compensate for varying weather conditions.
The UPC can be setup completely from the front panel or over a remote bus via a host computer. All monitor and control functions are accessible at the front panel as well as over the remote bus.
A Beacon Receiver must provide the UPC with a DC voltage proportional to the downlink signal strength. The Uplink Power Control Unit is equipped with fully redundant power supplies.
---
Data sheet:
---
The Uplink Power Control Unit is configured with one attenuator channel and is capable of up to a total of ten attenuator channels. Each attenuator is capable of providing up to 20 dB of power correction. In the event of an attenuator fault or power loss to an attenuator, the signal will be switched to a failsafe path. This failsafe path is routed through the rear panel via a U link connection. This connection allows the user to install a fixed attenuator in each path.
Features:
Up to 10 attenuator channels
20 dB correction range
Failsafe signal path
Fully redundant power supplies
RS485/RS422 selectable remote interface
Field expandable attenuator channels
DC and 10 MHz by-pass (UPC-L)
Options:
Remote RS232 or IEEE-488 interface
News: