Fiber Optic Assemblies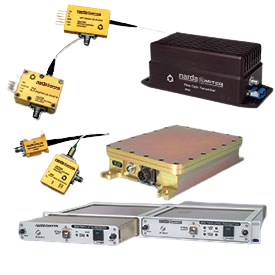 L3 Narda-MITEQ's Fiber Optic Assemblies integrate fiber optics with other L3 Narda-MITEQ components to provide more functionality withing a single package. One example is an integrated low-noise amplifier (LNA) with a fiber optic transmitter.
Our Fiber Optic Products are available in several different package styles:
Rack Mount (inlcuding 1/3 and 1/2 width)
Card Cage
Hermetic Kovar
Indoor or Outdoor Enclosures
Additional Configrations can include.
DC or AC Power
Connector Options
---
L3 Narda-MITEQ's complete line of Fiber Optic Products include:
Fiber Optic Links
Fiber Optic Transmitters
Fiber Optic Receivers
Fiber Optic Assemblies
Fiber Optic Redundancy Swithover Units
L3 Narda-MITEQ can customize the electrical specifications and packaging of all our fiber optic products to meet your specific requirements. Please let L3 Narda-MITEQ be your custom fiber optic solution.
Please contact Component Sales with any special requirements you may have:
Tel: 631-231-1700
Fax: 631-231-1711
---
SATCOM Fiber Optic Products:
---
Parent Categories:
Fiber Optic Products
|
SATCOM Products
---
Please
Contact L3Harris Narda-MITEQ
for more information:
Click Here For More Contact Options...