Custom Solutions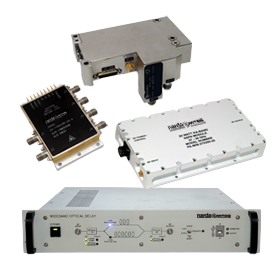 Although Narda-MITEQ offers one of the broadest lines of standard catalog items, the bulk of our business is in customized components, assemblies, and systems designed specifically around customer needs. Narda-MITEQ maintains dedicated engineering resources to modify our standard designs in support of custom-generated specifications. This can include new design efforts, modifications to existing designs for performance and mechanical needs, as well as additional testing and environmental screening.
In addition to housing separate engineering and manufacturing groups, Narda-MITEQ prides itself on its support groups including: drafting, which uses the latest commercial CADD and proprietary software programs; and an extensive machine shop, which includes top-of-the-line numerically-controlled Okuma, Mitsui, Seiki and Matsuura vertical machines capable of machining to the tightest of tolerances, guaranteeing repeated accuracy and reliability.
To accomplish the engineering, manufacturing and testing of Narda-MITEQ's components and assemblies, Narda-MITEQ invests heavily in capital equipment. This state-of-the-art equipment includes a wide array of vector network analyzers and synthesized sources, phase noise test sets, custom noise figure measuring equipment, glass furnace equipment to control the process of glass sealing, thermal/humidity chambers, and PIND and shock and vibration stations for environmental screening, to name just a few.
---
---
Narda-MITEQ's heavy emphasis on internal R&D throughout its history has lead to the creation of a company with the ability to adapt quickly to the changing needs of the customer and market while at the same time offering competitive prices and fast turnaround times.
---
Parent Category:
Products
---
Related Information
About Narda-MITEQ
---
Please
Contact Narda-MITEQ
for more information:
Click Here For More Contact Options...