Quadrature IF Mixers - IQ Mixers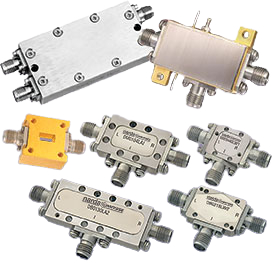 The Quadrature IF Mixer is an image rejection mixer without the IF hybrid. Thus each IF output is 90 degrees apart, or the I output is proportional to the SIN(WLO+WRF) , while the Q output is proportional to COS(WLO+WRF).
If one used these signals to power the horizontal and vertical inputs of an oscilloscope, a circle would be displayed for an AC IF frequency and a fixed radial vector for a DC IF or I/Q phase detector. Generally, the QIFM configuration is used for wideband digital or analog processing of video IF signals.
---
IQ Mixers:
Single Balanced IQ Mixers
Double Balanced IQ Mixers
Passive IQ Mixers
Narda-MITEQ can also offer customized solutions that meet your specific requirements
Please contact Component Sales with any special requirements you may have: Tel: 631-231-9220
Narda-MITEQ Mixers are backed by Narda-MITEQ's
Warranty
and most are available as RoHS Compliant components.
---
Mixers
---
Please
Contact Narda-MITEQ
for more information:
More Contact Options...