Isolators and Circulators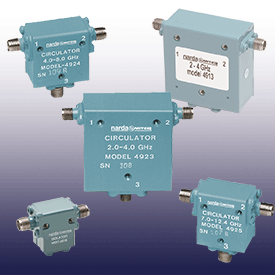 Ferrite Isolators and Circulators
SMA (F) Connectors
2-26.5 GHz Ferrite Isolators
2-12.4 GHz Ferrite Circulators
A circulator is a passive device that only allows a microwave or radio-frequency signal to exit through the port directly after the one it entered.
When one port of a three-port circulator is terminated in a matched load, it can be used as an isolator, since a signal can travel in only one direction between the remaining ports. An isolator is used to shield equipment on its input side from the effects of conditions on its output side; for example, to prevent a microwave source being detuned by a mismatched load.
To view or download information on specific Isolators and Circulators, please click on one of the sub-categories in the links below.
---
Sub-Categories:
---
Parent Categories:
Components
|
Passive Components
---
Please
Contact Narda-MITEQ
for more information:
Click Here For More Contact Options...