Detectors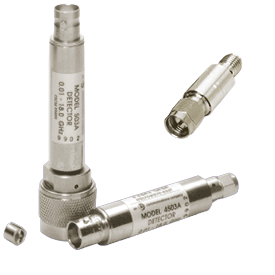 Ultra Broadband Schottky Detectors

0.01-18GHz
Zero Biased Detectors
Excellent Sensitivity, Rugged
Matched Detector; Good VSWR Characteristics
Miniature Flat, Zero-Biased Schottky Detectors

0.01-18GHz
Broadband Coverage
Flat Frequency Response
High Sensitivity
Field-Replaceable Diode
Negative or Positive Output Available
To view or download information on specific Narda-MITEQ Models, please click on one of the categories in the links below.

To view detailed typical diode performance data, including voltage out vs. power in, in Excel format, please click here.
---
---
Passive Components
---
Please
Contact Narda-MITEQ
for more information:
More Contact Options...