PIN Diode Attenuators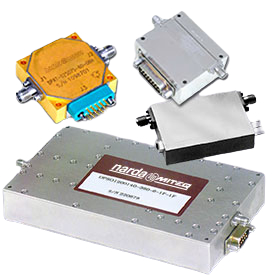 L3 Narda-MITEQ offers a full line of analog and digital PIN Attenuators with attenuation ranges of 60 dB on all of our standard products. We also offer custom products including an 8-bit digital attenuator with an LSB of 0.125 dB and maximum attenuation of 80 dB.
L3 Narda-MITEQ can customize the electrical specifications and packaging to meet your specific requirements even over octave bands.
These PIN Diode Attenuator solutions are backed by L3 Narda-MITEQ's
3-Year Warranty and most are available as RoHs Compliant components.
---
---
---
Literature:
---
Sub-Categories:
---
Parent Categories:
Active Components
|
Components
|
Spaceborne Products
---
Related Products
Phase Shifters
|
PIN Diode Switches
|
Power Dividers
---
Please
Contact L3 Narda-MITEQ
for more information...
Click Here For More Contact Options...