Passive Components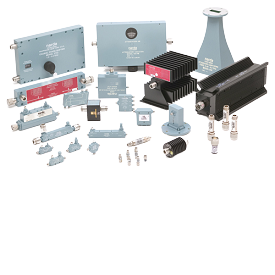 Welcome to passive microwave components section of the Narda-MITEQ website. In this section you will find one of the industry's most complete line of high performance RF products including Adapters, Attenuators, Couplers, DC Blocks, Power Dividers, Terminations, Waveguide Products and more.

Narda-MITEQ's products are manufactured to the highest standards and backed by excellent service and experience gained from supplying commercial and military applications for 70 years.
---
---
Environmental Performance for Selected Passive Products Applicable to the following products:
Stripline Directional Couplers, Attenuators, Power Dividers
| | |
| --- | --- |
| Parameter | Specification |
| Operating Temperature | -54 to +105°C |
| Storage Temperature | -55 to +125°C |
| Humidity | Per MIL-STD-202F, Method 103B, Condition B (96 hours at 95% R.H.) |
| Shock | Per MIL-STD-202F, Method 213B, Condition J (30G, 11 msec) |
| Altitude | Per MIL-STD-202F, Method 105G, Condition B (50,000 feet) |
| Vibration | Per MIL-STD-202F, Method 204D, Condition B (.06" double amplitude or 15G, whichever is less) |
| Thermal Shock | Per MIL-STD-202F, Method 107D, Condition A (5 cycles) |
Note:
This is an exclusive listing. Where otherwise noted in the catalog, the above environmental performance may not apply. Not applicable for those products designed for commercial applications. Many of our catalog off-the-shelf (COTS) products have the ability to withstand considerably more stringent environments. If you have special environmental requirements, please contact the Sales Department at Narda-MITEQ.
---
Products
---
Please
Contact Narda-MITEQ
for more information:
More Contact Options...