AS9100/ISO9001 Certification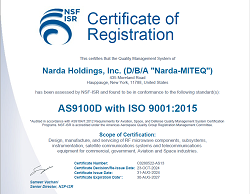 Narda-MITEQ attained its original ISO 9001 registration in June 1993, when fewer than 1500 companies were registered. ISO 9001 has since become a globally recognized standard for quality for commercial products. Nationally, it was accepted by an ever-increasing number of government agencies in place of long-standing military quality and inspection criteria such as MIL-Q-9858 and MIL-I-45208.
In May 2010 Narda-MITEQ achieved AS9100 registration, expanding our scope and commitment to include the Aviation, Space and Defense Industries. Narda-MITEQ is now registered to AS9100D with ISO 9001:2015 (Rev. D) by NSF International Strategic Registrations (NSF-ISR). Additionally, internal audits, management reviews and monthly quality reports assure the Quality Management System is continually improving at Narda-MITEQ.
---
Certifications:
---
Customer Support
---
Customer Support
---
Please
Contact Narda-MITEQ
for more information:
More Contact Options...