Bias Tees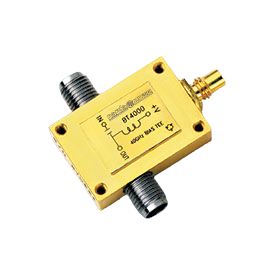 Everything below is for historical reference purposes only.
Narda-MITEQ manufactures and designs high performance Microwave Bias Tees that operate from 30 kHz to 40 GHz. These Bias Tee products feature: ultra-broadband performance, low insertion losses, off-the-shelf delivery and compact designs.
Narda-MITEQ's Bias Tees are suitable for 40 GB systems and typical Bias Tee applications include: OC768 transmitters and receivers, general purpose test and measurement systems. Some bias tee options are available, such as custom frequency bandwidths and different connector outputs.
Additional Bias Tee Applications Include:
Biasing for photodiodes (vacuum and solid state), Microchannel plate detectors, transistors, and triodes. High frequencies are not leaking into a common power supply rail, and noise from the power supply does not appear on the signal line.
---
Definition of a Bias Tee:
A bias tee is a kind of multiplexer which has 3 ports arranged in the shape of a T and where high frequencies (generally above 1 MHz) pass horizontally through the T and lower frequencies take a 90 degree turn used to bias transistors and diodes. It is a simple composition of one capacitor and one coil with attention paid to the details.
Narda-MITEQ can offer customized bias tee solutions that meet your specific requirements. Our Component are backed by Narda-MITEQ's Warranty, and most are available as RoHS Compliant components.
---
Literature:
---
Passive Components
---
Amplifiers
---
Please
Contact Narda-MITEQ
for more information:
More Contact Options...