Frequency Synthesizers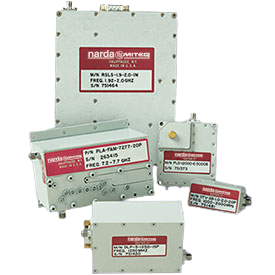 L3 Narda-MITEQ designs and manufactures various types of Frequency Synthesizers, including sources based on phase-locked-loop (PLL) technology to lock the phase of a voltage-controlled oscillator (VCO) to that of an inherently more stable reference source, such as a temperature-compensated crystal oscillator (TCXO) or an oven-controlled crystal oscillator (OCXO).
Such synthesizers can be designed with a single loop for optimal frequency switching speed, or with multiple loops when lower noise performance is required. In essence, they can be called integer-N synthesizers where N is the multiplication factor used to determine the output frequency as a multiple of the reference source frequency.
New Product: High-Spectral Purity Synthesizers, Series SLS2 (Datasheet D-417.PDF)
---
Software Download:
---
Literature:
---
End Of Life (EOL) notice for the following Synthesizer models
Effective Dec 2014 the following products will no longer be available from L3 Narda-MITEQ:
| EOL Models | Replacement Models |
| --- | --- |
| SLS (synthesizer) | LFTS |
L3 Narda-MITEQ can offer customized solutions that meet your specific requirements.
Please contact Component Sales with any special requirements you may have:
Tel: 631-231-1700
Fax: 631-231-1711
L3 Narda-MITEQ Frequency Synthesizers are backed by L3 Narda-MITEQ's
3-Year Warranty and most are available as RoHS Compliant components.
---
Parent Categories:
Active Components
|
Components
|
Spaceborne Products
---
Related Products
Frequency Oscillators
---
Please
Contact L3Harris Narda-MITEQ
for more information:
Click Here For More Contact Options...