Desktop Amplifiers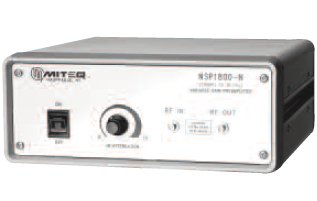 Narda-MITEQ's Desktop Pre-Amplifiers are available with a broadband frequency range from 0.1 - 40 GHz. Fixed or variable gain models are available. Variable gain models offer a control range of up to 15 dB.
The Desktop Amplifier Series includes a built-in CE approved power supply. Options include dual output, input limiter, DC block and temperature compensation. Other connector types are also available.
---
Since 1969, Narda-MITEQ, the pioneers in Amplifier development, have been customizing to our customers specific requirements. This can include new design efforts, modifications to existing designs for performance and mechanical needs, as well as additional testing and environmental screening.
Please contact Component Sales with any special requirements you may have: Tel: 631-231-9220
All amplifier products are backed by Narda-MITEQ's
Warranty
and RoHS Compliant components.
---
Amplifiers
---
Please
Contact Narda-MITEQ
for more information:
More Contact Options...