VHF/UHF Amplifiers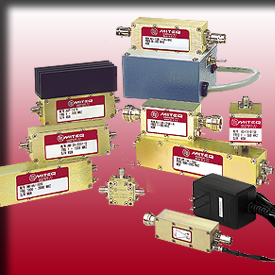 L3 Narda-MITEQ's VHF/UHF amplifier designs include:
Low Noise VHF/UHF Amplifiers
Medium Power VHF/UHF Amplifiers
Low Frequency VHF/UHF Amplifiers
Fast Recovery (NMR/MRI) Amplifiers
75 Ohm VHF/UHF Amplifiers
SATCOM VHF/UHF Amplifiers
Wideband VHF/UHF Amplifiers
The VHF/UHF amplifier product line covers frequencies that are useful in applications such as MRI, Cellular communications, PCN and INMARSAT.
---
---
---
VHF/UHF Amplifier Options Include:
Input Bias Tee
Bias through the output connector
Bias through the output connector with DC feedthru to RF input
Type N or BNC Connectors
Input internal limiter
AC power supply
AC power supply wall plug in
AC power supply with SMC connectors
Gain Window
Phase Match
Amplitude match
Gain control
VHF/UHF Amplifiers Include The Following L3 Narda-MITEQ Series Of Amplifiers:
AU Series VHF/UHF Amplifiers, AM Series VHF/UHF Amplifiers, AUP Series VHF/UHF Amplifiers, AMP Series Amplifiers
Since 1969, L3 Narda-MITEQ, the pioneers in Amplifier development, have been customizing to our customers specific requirements. This can include new design efforts, modifications to existing designs for performance and mechanical needs, as well as additional testing and environmental screening.
Please contact Component Sales with any special requirements you may have:Tel: 631-436-7400Fax: 631-436-7430
All amplifier products are backed by L3 Narda-MITEQ's
3-Year Warranty and most are available as RoHs Compliant components.
---
Sub-Categories:
---
Parent Category:
Amplifiers
---
Please
Contact L3 Narda-MITEQ
for more information:
Click Here For More Contact Options...