About Us
L3 Narda-MITEQ is one of the ten original business units of L3 Communications. In business for over 60 years, Narda designs, develops, and manufactures state-of-the-art RF and microwave components, integrated microwave assemblies, subsystems, and RF safety instrumentation. The company has positioned itself as a technology leader by offering advanced RF and microwave products in the frequency range of DC to 40 GHz, serving a broad array of commercial and military markets and applications. Narda Microwave has forged a reputation over several decades, for very high quality and durable products, well suited for even the harshest of environments.
We maintain the world's largest inventory of RF and microwave components and instruments for rapid delivery of our products to customers worldwide. Products manufactured in our factories include couplers, power dividers, attenuators, terminations, electromechanical and PIN diode switches, and switch filter banks, which are suitable for myriad RF applications.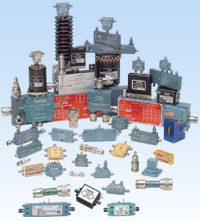 Narda Defense Technology Solutions has pioneered the design and manufacture of Integrated Microwave Assemblies (IMAs) for more than 30 years. Narda IMA's are custom designs which integrate, combine, and optimize both active and passive RF functions into a single package. Our expertise in design, process, and packaging results in innovative solutions to meet our customers leading edge goals and requirements. Narda IMA's address specific customer functionality requirements and include the integration of switches, filters, oscillators, synthesizers, amplifiers, passives and many other components as required. Typical applications for these products include Satcom, electronic warfare, ELINT, radar, and radio communications.In addition to providing off-the-shelf catalog products, Narda has been supporting customers for decades with custom-engineered solutions. Narda has provided modified off-the-shelf and fully customized solutions designed to our customer's specific requirements. Typical custom solutions may address an expansion of operating frequency range, power handling capability, form factor, and environmental testing parameters. Fully custom designs meeting the exact specifications of the customer are also at the core of our offering.
The first IMAs manufactured by Narda were realized by combining several alumina-on-carrier circuits within single machined aluminum housing. These multifunct
ion assemblies provided high performance and longevity, yet the constraints of higher labor/ materials costs and larger footprints often became prohibitive. While enhanced versions of this technology continue to remain viable for certain applications, Narda Defense Technology Solutions has evolved new technologies to effectively eliminate the constraints of traditional chip and wire manufacture. Our new and continually evolving proprietary MMC (Multi-layer Microwave Circuitry) technology leverages commercially available multi-layer board materials with Narda proprietary interconnection techniques, along with DSP/FPGA-enabled monitor/control functions, to allow for densely packaged IMA's and subsystems in footprints previously unachievable.
In addition to our custom and COTS components and IMAs, Narda manufactures a full line of RF Safety Instrumentation that characterizes RF levels to insure personal safety and compliance with both national and international standards.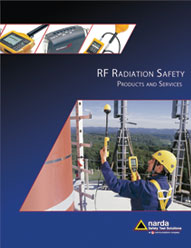 Narda Safety Test Solutions (STS) is the world leader in non-ionizing radiation safety equipment. Narda-STS holds more than 95% of the patents in the industry. Products are currently available to accurately measure electromagnetic fields from a few Hertz to over 100 GHz as well as static magnetic fields. RF personal monitors cover 100 kHz to 100 GHz and our area monitors detect energy from 50 Hz to 100 GHz.
Narda-STS prides itself in offering superior customer support in the following areas:
Equipment and application consultation by our worldwide sales network
17025 certified calibrations
Expert advice on standards and recent developments
RF safety training and measurement services
Narda Quality Assurance is in full conformance with ISO 9001:2008 and AS9100:2009.